KIT Representative for Students with Disabilities
and Chronic Diseases BBC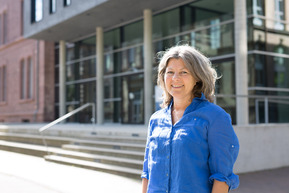 Angelika Scherwitz-Gallegos, Person-centered Consultant (GwG), Coach and Supervisor (GwG, DGSv)
I am the contact person for prospective students, students, and KIT members regarding studying with disabilities and chronic diseases.
The consultation is confidential.
Virual consultation via zoom will be continuoulsy offered.
Please schedule appointments in advance (see infobox below) via E-Mail.
Professional consulting focuses on people and their concerns in a positive and appreciative way.

The commissioner advises in a resource-oriented and supportive way in the search for solutions to individual needs caused by impairments.

She accompanies the process of exploiting possibilities within the existing framework in a solution-oriented way and encourages new steps.

She aims to create awareness of the discourse on diversity and inclusion and offers opportunities for reflection.

The goal is a development towards more inclusive studies and better participation of students with disabilities.
Equal opportunities does not mean
that everyone can pick an apple,
but
that the dwarf is given a ladder.

- Reinhard Turre -